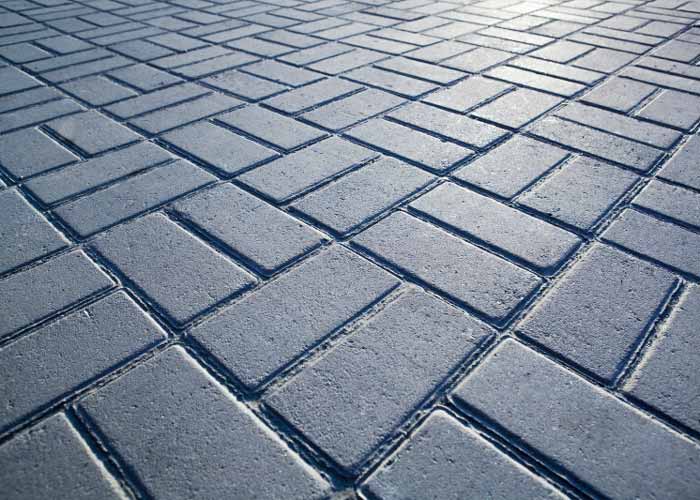 Similar to how vinyl flooring can be used to copy the look of other materials, more and more homeowners are saving money with stamped concrete. While the concrete is wet, we are able to stamp a pattern to make it look like other natural materials.
We offer a range of stamped concrete patterns, which include slate, stone, brick, and wood. We also offer different concrete stains so you can create a customized look for your home.
Stamped Patios
A stamped concrete patio can add value to your home and your life. Why not copy the look of natural stone with a ? We are able to design and construct a concrete patio to your specifications so you can enjoy warm weather out on your textured patio.
Stamped Driveways
Why pay the cost of a cobblestone driveway when we can stamp and stain stamped concrete driveway can help attract potential buyers.
to look like the real thing? Decorative concrete not only improves the curb appeal of your home but helps you stick to your budget. If you are trying to sell your home, a beautiful
Request a Quote for Stamped Concrete
Our stamped concrete contractors based in Grand Rapids, MI, work hard to make sure you are satisfied with your new decorative surface. To request an estimate for stamped concrete, call JDE Concrete at (616) 551-2126.
Slate Patterns
Slate patterns come in eight different patterns to choose from. Click the images below to see an expanded view.
Stone Patterns
There are numerous stone concrete stamping patterns to this very popular category. We have included twelve different patterns which reflect the majority of the concrete stamp designs.
Brick Patterns
The brick concrete stamping pattern has a variety of seperate patterns to choose from. We've added the most popular below for you to choose from. Project photos will be uploaded soon.
Wood Patterns
The Hardwood Planks concrete stamping patterns come in two different stamping patterns – 6 inch and 3-1/2 inch width.
Seamless Texture Patterns
There are numerous choices for those who want to have a more subtle concrete texture pattern for their next landscaping project. The concrete texture mats as they are called, add a softer, seamless texture to the concrete appearance. Still, they have a distinctive look, or some might say, refined look, setting it apart from normal finished concrete. This we believe adds a much-needed character and curb appeal to the finished project.
When it comes to stamped concrete, JDE Concrete should be your first consideration. Whether commercial or residential, JDE will work to give you one of the most popular stamped concrete looks in the industry. Our concrete stamping patterns are high quality and are made by one of the leading manufacturers in the concrete industry.
Concrete Colors and Antiquing Release Choices
JDE Concrete can apply 14 standard concrete colors and approximately 56 total colors if your project demands it. JDE also offers 14 different colors of antiquing release that puts a nice visual definition and depth to the pattern once it is stamped. Most of the release is later rinsed off leaving an antique look and character to the concrete.
You may see a large image of each category by clicking on the images below.
Note: After you view the charts simply, click "X" in the upper right window of the overlay to close.
To talk with our stamped concrete representative, please call (616) 551-2126.
Concrete Services
JDE Concrete of Grandville and Jenison Michigan serves the Michigan area with residential, commercial, and agricultural concrete. Call our West Michigan concrete contractors and see why most of the areas largest contractors choose JDE Concrete for their important concrete projects.